Recently Apple announced the all-new Mac Pro and Pro Display XDR. Upgrading the trash can Mac Pro from 2013. The combination of Mac Pro and Pro Display makes this Apple's most powerful mac desktop yet. The new Mac Pro 2019 has an Intel Xeon 28-core processor on top of 1.5 TB of 6-channel ECC system memory, which implies you're unlikely to run into any job that's too heavy for the new Mac Pro.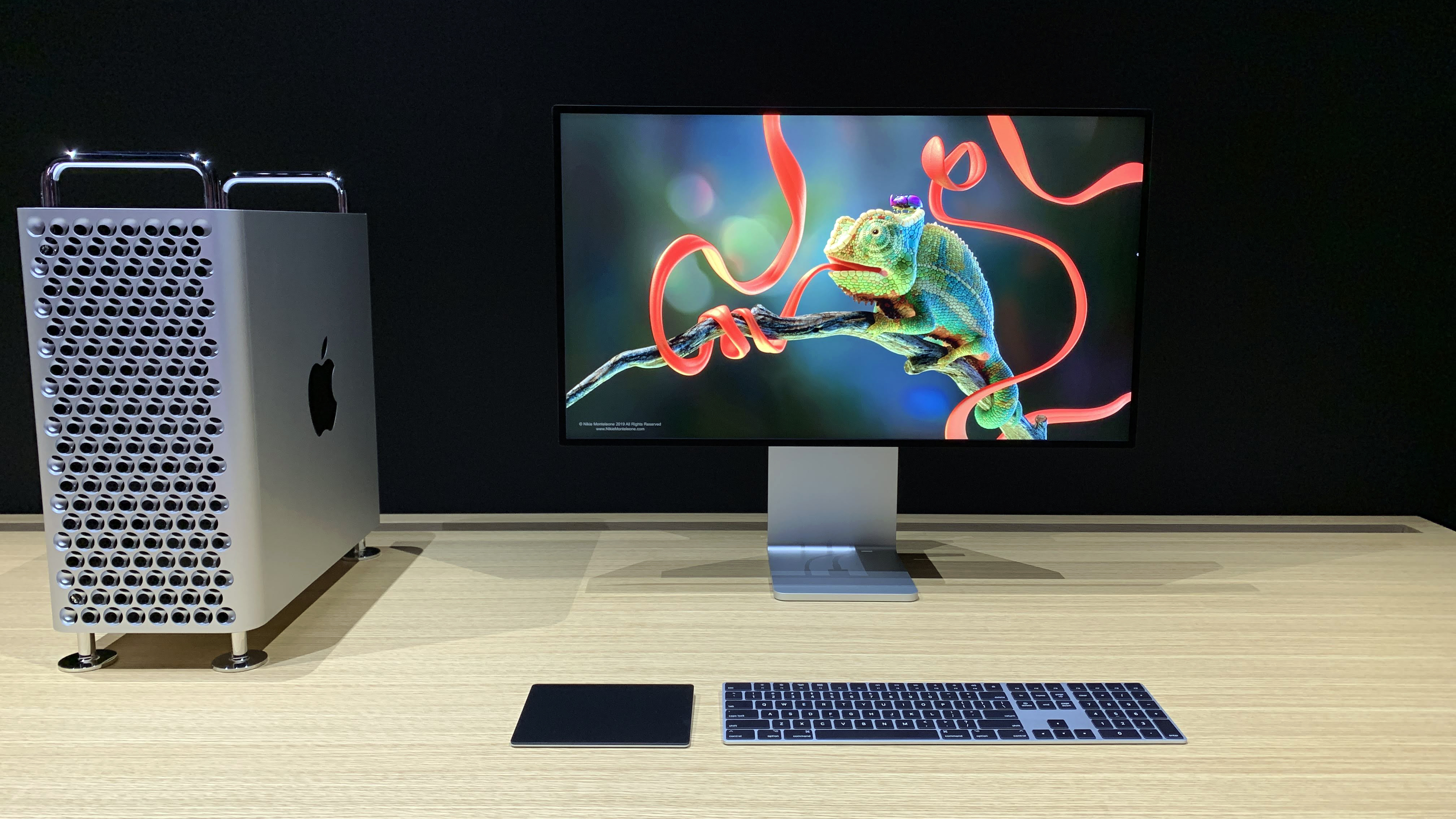 Without a doubt, Mac Pro 2019 is built for the future–and it also looks like it came from the future. The latest Mac Pro features a frame of stainless steel that dissects the 2013 model's spherical' bin' look in favor of a more traditional tower chassis that echoes older Mac Pro models. The front and back are filled with vent holes that are unique in design.
Specifications
300 watts of power, runs fully unconstrained
2933MHz ECC memory, 12 DIMM slots
8 internal PCI slots, four double-wide slots, three single side slots
Half-length slot populated with two TB3 ports, audio jack, two USB A ports, two 10Gb Ethernet ports
Up to 1.5 terabytes of RAM
Intel Xeon processor with up to 28 cores
Apple-designed a PCI connector with a second PCIe connector and power
Multiple graphics options; can configure with options such as Radeon Pro Vega II
Two GPUs connected via Infinity Fabric Link, 5X faster than PCI bust
Apple built a brand new card called Afterburner for video editing, 6 billion pixels per second. 3 streams of 8K, 12 streams of 4K
Apple is also adding the option of a custom hardware accelerator called Afterburner to enhance video processing–a major boon for video pros. Designed solely for video processing purposes, Apple claims Afterburner will support up to three ProRes raw footage streams at 8 K resolution simultaneously. It can manage twelve streams at 4 K resolution, pushing up to six billion pixels per second.
Pro Display XDR
Apple is also rolling out a fresh professional monitor the Pro Display XDR featuring a corresponding design complimenting the 2019 Mac Pro. This monitor features a Retina 6 K display of 32 inches (the first in the world), and the next high-dynamic-range (HDR) level or what Apple calls Extreme Dynamic Range (or XDR).
Furthermore, since each single LED is calibrated for HDR at the factory stage, Apple can produce HDR as never before seen. Apple does this by using a unique lattice cooling pattern on the back of the display to maintain 1,000 nits of brightness at all times–with 1,600 nits of peak brightness.
The screen is calibrated by the factory and features super broad viewing angles, a dedicated polarizing filter that retains color quality off-angle, and a glass surface with an optional matt finish. That matte finish is not just an extra glare-reducing coating, it is a nanoscale etching into the glass surface that should stave off reflections and glare and never wear away.
Video
Pricing
"Apple announced that its new Mac Pro starts at an already pricey $6,000, but the company neglected to mention how much the top-of-the-line model will cost. So we shopped around for equivalent parts to the top-end spec that Apple's promising. As it turns out: $33,720.88 is likely the bare minimum — and that's before factoring in the four GPUs, which could easily jack that price up to around $45,000.Add in a Pro Display XDR monitor (and a Pro Stand to go with it), and you're looking at a workstation that could clear $50,000. " - Chaim Gartenberg
(Reference -
theverge.com
)
Bonus
Thanks for reading so far. Here are exclusive official high-resolution wallpapers from freshly announced iOS 13 and Mac OS Catalina.
Grab from our official downloads website -
Download Now
Verdict
The 2019 Mac Pro is currently Apple's most powerful computer. The Mac Pro is intended strictly for companies and content creators that need unparalleled computing power to perform their tasks.