Here are some apps, that I use a lot and find really handy in day to day proceedings.
Sectograph:
Ever feel bored scrolling through your schedule and have trouble keeping the clock in sync with your activities. Well here you go.. this is sectograph it is a personal clock come schedule display. It syncs with a calendar app and even with your Gmail account. So you don't have to worry about updating your schedule two times. Displaying both time and the upcoming activity is really handy.
Night Owl:
If you are a night owl, this app is for you. Studies have shown that blue light tricks the brain into staying awake which may cause Insomnia i.e. not be able to sleep at night. This app locks out the blue light allowing you to use your phone without interfering with your sleep pattern. It can also be configured to filter other colors, but the default is blue. Unfortunately, this app cannot have allowed you to sleep 7 hours of sleep in 4 hours.
Daylio:
Ever feel the need to keep track of day to day stuff, but can not write much about it or are just lazy like me xD...well Daylio is for you. This is not just another Diary app. This allows you to mark your mood for each time of the day and what activities you were doing. Activities are represented by Icons. They can be edited if, the need arises. Also, the app is password protected by a 4 digit pin and can be backed up to Google drive. The best part is your mood can be reviewed as per week, month or year. Now, diary entry is just a few taps away!
Google Keep:
If I were to say that Google Keep is just another notes app, I would be so wrong. Well actually, no, it's just a really convenient one at that. Its convenience stems from it being a Google app, so it can be synced from different devices in real-time (almost.. I had to refresh it in order to sync).
The notes can be archived, labeled and even colored in order to differentiate them better. You can also store pictures and sound recordings on the app and even drawings (i.e. the pen icon). The smaller widget lacks the feature of displaying the notes but is really efficient in terms of space. However, the larger widget is better for users but it takes up a lot of space in order for the user to be able to even read the notes effectively.
P.S>
F.Y.I. This review was written with the help of this very app :P.
Mobile view:
Widgets: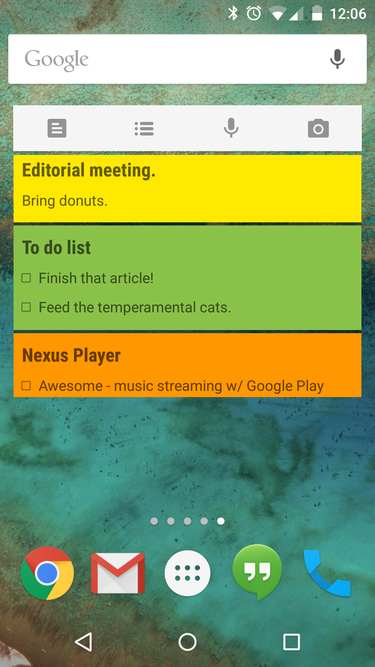 View on PC:
That was all! Hope you find this review helpful :D