Recently Apple announced the new
Apple Watch Series 4
. Fundamentally redesigned and re-engineered to help you stay even more active, healthy, and connected. The new features include
the largest
Apple Watch display yet, New
electrical heart sensor,
and Re-engineered Digital Crown with
haptic
feedback.
Aside from the obvious screen upgrade, the new smartwatch added additional health features, including the ability to take an FDA-approved electrocardiogram (ECG). To do get this approval, they funded a long-term study that found the smartwatch's ECG-detecting software could accurately identify a serious condition known as atrial fibrillation (AFib) over 98% of the time.
According to Apple COO Jeff Williams, the leading causes of injuries worldwide are falls and "whether you slip off a stepladder or you trip on a curve, a hard fall can be serious and it can be difficult to get immediate help."The new Apple Watch can detect a fall thanks to a new accelerometer and gyroscope which measures up to 32 g-forces and can now analyze the wrist trajectory and impact acceleration to determine when a fall occurs.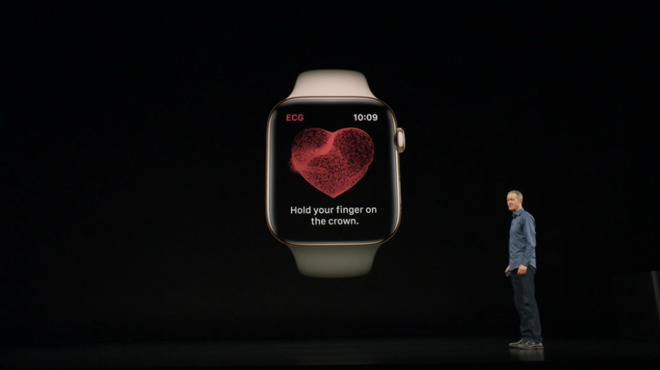 The Apple Watch is, of course, priced significantly lower than the iPhone, but it serves as a way for the company to get users even more hooked into the Apple ecosystem. Apple doesn't break out sales or unit data for its wearables, but a continued preference for lower-priced watches would pressure watch average selling prices.
Walkie-Talkie, phone calls, and messages. Stream Apple Music and Apple Podcasts. New ways to use Siri. Built-in cellular lets you do it all on your watch — even while you're away from your phone.
Learn More -
https://www.apple.com/apple-watch-series-4/