Hello, this is Omay Naik from TTSMG and I have been using these earphones for about a month at the time I have written this review.
The earphone speaker housing is made up of metal, the rest of the build is made up of rubber and plastic. These come with two earphone hooks pre-attached to the earphones. These are made of rubber and can be rotated to fit your ear. The housing sports the Ant Audio's brand logo on its sides, which looks cool.
These have performed better than expected and have also become my favorite.
The packing includes the earphones (obviously), some stickers, a clip, the warranty card, earplugs of various sizes (small, medium, and large) (medium ones are attached to the earphones), the ear hooks are already on the earphones and a welcome card. The features of the device and its specs are displayed on the packaging.
Packaging:
Specifications:
Frequency Response: 20-20KHz
Impedance (Ohm): 16Ω±15%
Sensitivity (dB/mW): 90dB±3dB
Cord Type: Flat Wire
Cord Length: 1.2 m
Connector: 3.5 mm Right Angled Gold plated Connector
Type : In-ear
The metal box in the packing is sturdy and is sealed. It contains stickers
Microphone:
The cord is flat and comes with an in-line microphone. A multi-function button is embedded along with the mic. The connector is an L-type connector, making it easier to hold the phone. This is good for playing games and traveling. The microphone has good pickup indoors but doesn't perform as well outdoors.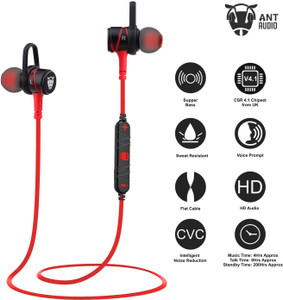 The earphone splitter is made up of Metal
L-type gold-plated connector with the brand tag
The earphone metal housing branded with the Ant-Audio logo
(I received the earphones with one crooked ear-hook, note that the ear-hooks are not sided specific and can be interchanged or removed, they are made of rubber)
Comfort:
The earphones fit snugly, if inserted correctly and can be worn comfortably for hours. It takes a while to get used to the ear-hooks, however, they provide a good fit that keeps the earphones in your ear. The hooks can be removed if they don't suit your taste.
Playback:


The music playback is quite good and the bass is high. I tested these with the Ultimate headphone test video on Youtube and was blown away with its performance for its price range. (Note: Youtube blocks frequencies above 15kHz on its videos)
You can buy them from Amazon for just 599/- for the black version and around 650/- for the red.
P.S. The Red Variant:
Links: