Tech giant Apple launched its wireless earpods in 2016 along with the iPhone 7 which was the first iPhone to not possess a 3.5mm headphone jack. The earpods have 5-hour long battery life and can be charged wirelessly.
According to recent
research data
from

The NPD Group

, 900,000 completely wireless headphone units have been sold in the U.S. since the start of the year. And while the research data doesn't delineate what the market share breakdown looks like for companies like Apple, Sony, and Bose, the data does reveal that 85% of all the money spent on completely wireless headphones is spent on AirPods.
The following incident, if proven true
may put a dent on the sales records given above. On February 8th, 2018 Jason Colon, a resident of Florida clai
med that his earpods caught fire during a workout. According to Colon, this incident happened while he was listening to so
me dance
music while at the gy
m.
He saw s
moke e
merging fro
m the right earpiece and i
m
mediately left the earpods on so
me gy
m equip
ment to look for help. When he returned Colon saw that the earpod had exploded.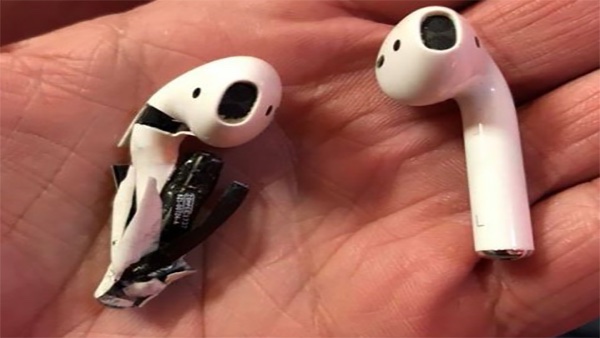 "It was already like this. It was already popped. I didn't see it happen, but I mean, it was already fried! You can see flame damage",Colon

told a local channel 8 news station

.
No one present at the gy
m witnessed the co
m
bustion of the earpods hence it's not clear if the device actually did explode. When contacted, the Apple spokesperson said that the co
mpany is in the
middle of investigations and is in touch with Colon.
Thank you for reading, if you have any suggestions let us know in the co
m
ments section below. Goodbye for now!