Whatsapp messenger is the world's most popular messenger with over a billion users spanning across 180 countries. Whatsapp offers a plethora of services such as instant messaging, voice calls and video calls.
WhatsApp Messenger is a FREE messaging app available for Android and other smartphones. WhatsApp uses your phone's Internet connection (4G/3G/2G/EDGE or Wi-Fi, as available) to let you message and call friends and family. Switch from SMS to WhatsApp to send and receive messages, calls, photos, videos, documents, and Voice Messages.
As of February 2017, Whatsapp boasted of 200
million users in India. Whatsapp is now adding to it's huge arsenal of features by including online pay
ments in it's latest beta in India. Whatsapp has been working with NPCI and UPI to allow users to securely send
money via the app. All you need to do is link your bank account to the app.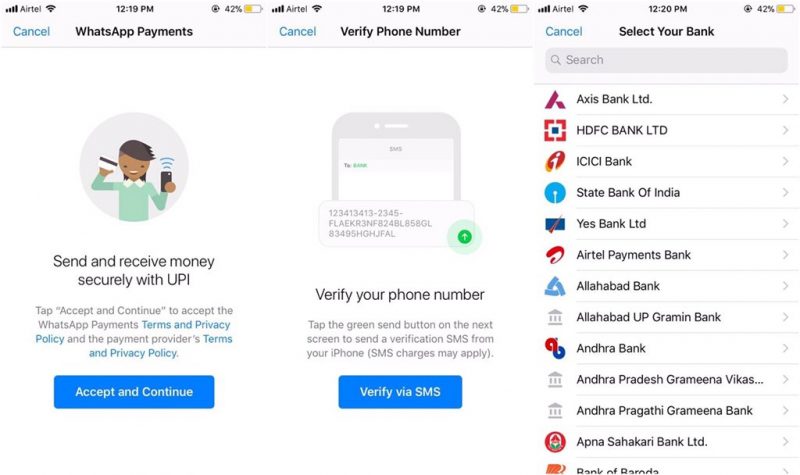 The above i
mage is a screenshot fro the app's latest beta update.
Here's how you can setup Whatsapp for pay
m
ents
1. Open WhatsApp, tap on the three dots at the top right corner and navigate to the Settings > Payments window
2. Tapping on the payment option will take you to a new window, where you'll first need to verify your phone number to begin the UPI setup process. Your registered phone number on WhatsApp should be the same as the one used to register for UPI.
3. Once your number is verified, you will be shown a long list of banks. Here, you can go ahead and select the bank and account that you want to link with WhatsApp.
4. Once it's done it'll show 'setup co
m
plete' . You can now
make payments via the app!
This
move has been
met with a positive response as it resonates with the Indian Govern
ment's drive to go co
mpletely digital.
Thank you for reading! If you have any suggestions please let us know in the co
m
ments section below. Goodbye for now!